I have tried both cordless and corded electric brooms and, even if I didn't always have positive experiences when using them, I would always choose a cordless product over a corded one. Many will say that if you need a quality broom that offers plenty of suction power, you must definitely choose a corded model. I would disagree. I own a cordless one and it works just fine on hard floors, as well as carpet areas.
Most certainly, the most obvious and useful advantage of owning this type of product is the absence of the cord. It means you won't have to plug it in and unplug it each time you use it, which makes cleaning easier and can even turn sweeping into a pleasant task. Perhaps you've noticed yourself how the cord always gets tangled and twists in every possible way, making you feel stressed when you're in a hurry and need to sweep your house fast and well at the same time.
Quality electric brooms from Hoover will offer you great suction power, while also allowing maximum mobility around the house. It is quite important to have a portable device for cleaning, and a cordless electric broom will give you precisely that. When, for example, you need to reach in small spaces far away from the outlet, you will be grateful your vacuum doesn't have a cord attached to it, allowing you to sweep the entire room without worrying about its length. In addition you won't be forced to make use of an extension cable that you may stumble on and injure yourself in the process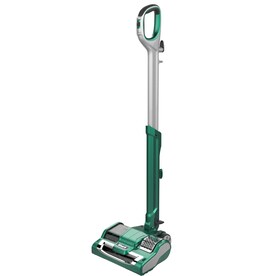 The battery doesn't necessary have to be a problem. It is true, most sweepers take several hours to fully charge, but that doesn't mean they are not fitted with long-lasting batteries that allow you to finish your job in a single charge. Some batteries can offer you up to one hour of continuous sweeping time and will charge in about 5-6 hours. Moreover, certain products are fitted with alert lights that will notify you when your battery is running low. This way, you will never be caught off guard, and you will have your broom prepared at any time.
Contrary to the general opinion, a cordless broom isn't necessarily a product that offers low suction power. Fitted with strong batteries and useful attachments, these small appliances will clean dirt caked on the floor, pet hair and even large debris. That is possible due to the newest developed technologies that enable them to work perfectly on any type of surface. In case you are dealing with large debris or hard to reach messes, you can buy a product able to switch through several power levels. This way, even if you usually use your broom at a low speed, you can benefit from a boost of power when the normal speed isn't up to the task.
Finally, a cordless broom is convenient to store. Without having to find a place for the cord, which is usually non-retractable, the slim design of the broom ensures you can fit it with no trouble in almost any place.